How to design files in PMS
Last updated on
You don't always have to design a file in CMYK. Sometimes you might want to print in white, for example with transparent stickers, promotional items or textiles. Or maybe you want to be sure that exactly the same color is used every time.
In these situations, you can use the color code PMS. How you create a file in PMS in Adobe Illustrator and InDesign is explained below.
Adobe InDesign
To set the color mode to PMS, go to Window > Color > Swatches. A new window opens. In this window, click on "new color swatch" in the menu at the top right.
Choose "pantone solid coated" or "pantone solid uncoated" in color mode, depending on the type of material and finishing you choose for your product.
Pantone solid coated: textile, promotional items, all coated paper types, such as mc glossy or mat
Pantone solid uncoated: for all uncoated paper types, such as offset paper
Then choose the desired Pantone color and click OK. The color has now been added to the list in the "swatches" window.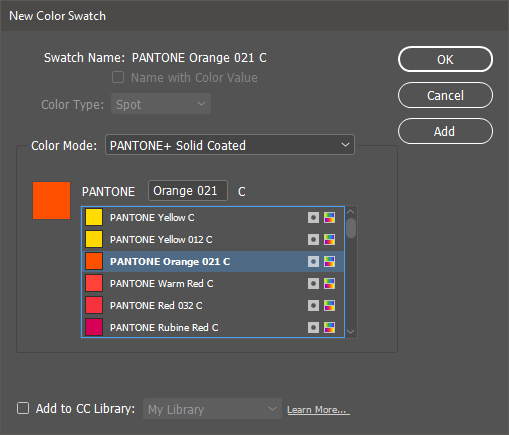 Figure 1: New color swatch settings
Adobe Illustrator
In Illustrator, the procedure is slightly different. Go to Window > Open Swatch Library > Color Books and choose "pantone solid coated" or "pantone solid uncoated". A new window opens with all pantone colors. Select the color you want to use. This color is added to the window swatches (Window > Swatches) and can be used in the design.


Figure 2: Add new pantone color (left) and overview swatches (right)