Which material should I choose for my banner?
Last updated on
Banners exist in many different materials. Mesh and frontlit are well known and chosen most often. On this page we explain all available materials, so you can easily make the best choice for your specific situation.
Mesh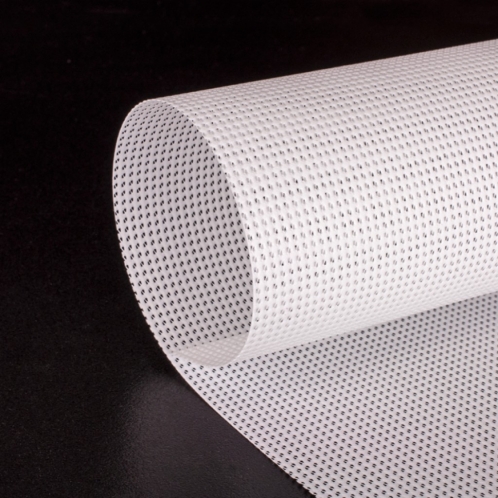 This material has a mesh-like structure. The structure makes mesh wind-permeable and therefore it's very suitable to use in places where there is a lot of wind. With this material you reduce the change of the banners being teared or blown over. The mesh-like structure also has a disadvantage, the level of detail of the imprint is less good than with other materials from up close (<2 meter). At a larger distance however, you will hardly notice anything. The structure makes the banner see-through at short distance (<1 meter), so it's less suitable as visual barrier.
As standard, our mesh has a grammage of 270-280 g/m² and is made of PVC. If desired we can also print on mesh of 350 g/m², in which case you should request a quote. Our mesh is also FR B1 certified in terms of fire resistance.
Frontlit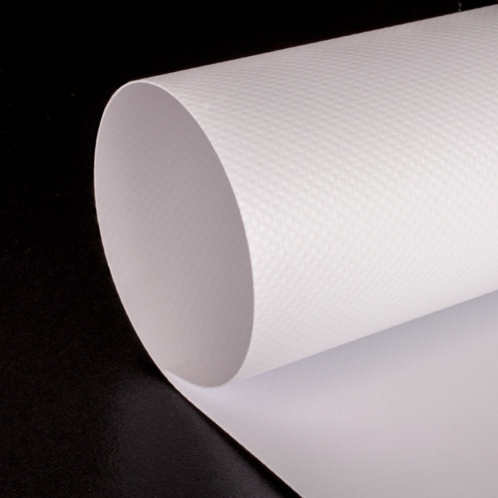 Frontlit can be used both indoors and outdoors. It has no mesh-like structure which makes the level of detail better than with mesh. This makes the banner very suitable for e.g. exhibitions. A disadvantage is that a frontlit banner catches much more wind in comparison to a mesh banner. That's why you might not want to use frontlit in places where the banner can catch a lot of wind, such as a long wall of mobile fences with frontlit screens. There is a real chance that the entire wall of fences will be blown over and possibly cause damage to the banner and/or third parties.
Our frontlit has a grammage of 510 g/m², consists of PVC and has FR B1 certification.
Speakermesh or soundmesh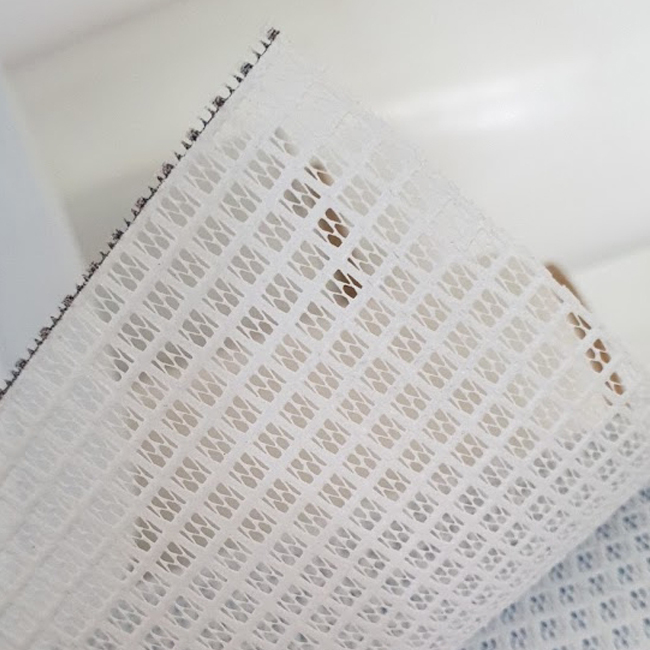 Speakermesh or soundmesh has a mesh-like structure just like ordinary mesh, however the openings are larger so that sound passes through better. On the other hand, the level of detail of the print is slightly lower, but since it's usually viewed from a distance it still seems very sharp. This material is very suitable for events and festivals, for example to cover the speakers.
Our speakermesh has a grammage of 250 g/m², consists of pvc and has FR B1 certification.
ProPes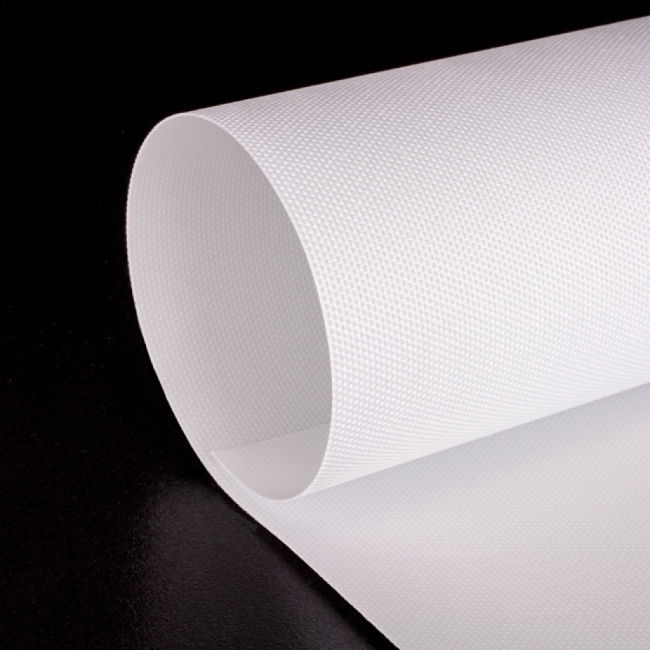 ProPes is a special material and unique on the market. It looks like a mix of mesh, frontlit and flag material. The print has an even higher level of detail than frontlit. Furthermore, the material is virtually completely wrinkle free and does not crease when folded. ProPes is weatherproof and can therefore be used outdoors.
Unlike other materials, ProPes is made of 225 g/m² polyester, instead of PVC, and is printed with water-based pigment inks. It is not necessary to seam the edges of the banner since it does not fray. The eyelets are made of recycled plastic instead of metal. All this makes this material very environmentally friendly and is therefore suitable if you want to keep your ecological footprint as small as possible.
However, there are two drawbacks. ProPes is not FR B1 certified and the shortest side of the banner cannot be larger than 300 cm. In other words, a banner of 300 x 500 cm is possible, but 301 x 301 cm is not.
Backlit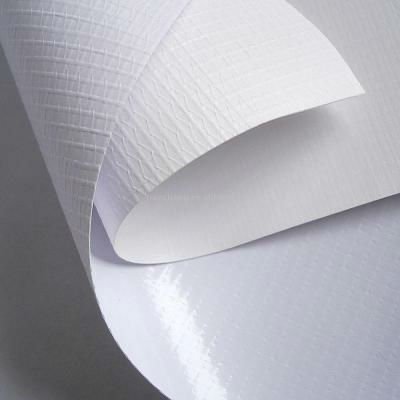 Backlit is a lot like frontlit. The difference is that the backlit fabric lets more light through and the primary light source is behind the banner. This is very useful if, due to lack of space, aesthetics or safety reasons, you want to hide light sources such as spotlights behind the banner.
The backlit consists of 500 g/m² PVC material and is not FR B1 certified.
Blockout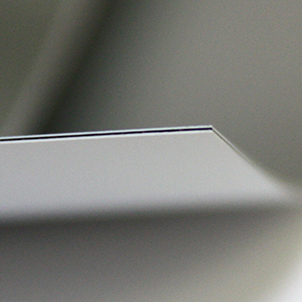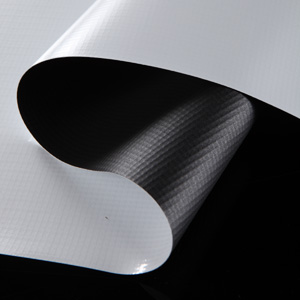 Blockout is the heaviest and strongest material in our range. The main feature of blockout is that a black layer has been added to the material, so it doesn't let light through. This is very useful when the banner is hanging in front of a window or if there are many different light sources that you can't control (e.g. at fairs and expo's). Objects that are behind the banner will not shine through, even if a strong light source shines on the back of the material. There are two versions; one that can be printed on one side and one that can be printed on both sides.
Single-sided blockout (4/0)
Single-sided blockout consists of 610-670 g/m² PVC and has minimum a B2 and maximum a B1 certification.
Double-sided blockout (4/4)
Double-sided blockout consists of 610 g/m² PVC that is B1 certified or 650 g/m² PVC with a B2 certification. This is the only material for banners that can be printed on both sides.
The grammage of the banner is determined based on the production line on which the banners are produced. If you need a specific grammage or certification, you can always contact us for a tailor-made offer.
Overview
In table 1 we list the advantages and disadvantages of each material for you to compare. If you are still not entirely sure which material is the best suitable for your situation, do not hesitate to contact us. We figure out the best solution together.
Table 1: the advantages and disadvantages of each material and comparison
Mesh
Frontlit
Speakermesh
ProPes
Backlit
Blockout (4/0)
Blockout (4/4)
Wind-permeable
Level of detail print
Good
Very good
Average
Excellent
Very good
Very good
Very good
Material
PVC
PVC
PVC
Polyester
PVC
PVC
PVC
g/m²
270-280
510
250
225
500
610-670
610-650
Double-sided printable
Certificates
FR B1
FR B1
FR B1
/
/
Min. B2
Max. B1
B1 of B2
No additional light source required